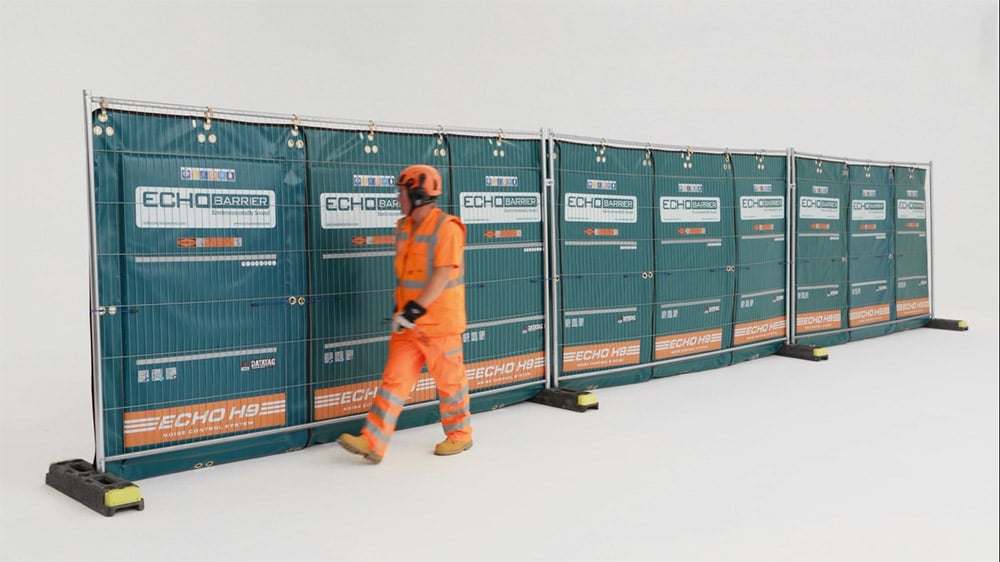 Construction is loud – there is no way around it. But with the Echo Barrier H-Series™ of products, trapping sound within a building site can help stop neighbours' headaches in their entirety. Here, we look at why our noise reduction products are a must-have for developers around the world and how they can keep your construction works on time and on budget.
It is no secret that construction sites are incredibly noisy places. Local authorities put noise protocols towards the forefront of their decision making for this very reason – noise pollution can have catastrophic effects on health, causing high blood pressure, high stress levels and hearing loss to name a few.
Local residents are well within their rights to complain, and they do – which can lead to a hefty fine. Noise reduction products will save both you and local people a headache or two.
What does the H-Series™ include?
The H-Series™ offers unmatched noise reduction. Developed by our team of leading acoustic experts, the panels reduce sound by as much as 43dB and up to 99% at certain frequencies.
The lightweight and portable panels are fire-resistant to ASTM E84 standards/BS7837:1996 and 100% weatherproof to IPX6/9 BS EN 60529:1992. They are easy to fit on standard site fencing or scaffolding and can be used in almost any work environment – from oil and gas to rail and road.
All products are 900 GSM PVC tensile tested to ISO standards, giving increased durability compared to competitors – and have been proven to endure work environments for more than five years.
Our products help improve worker safety, reducing the impact of noise on their health, while also minimising the amount of dust moving off-site.
Designed for both inside and outside use, the H-Series™ products can be used in indoor environments such as workplaces and hotels, ensuring doors can remain open and minimise disruption to service users.
H-Series™ products also include space to carry corporate branding, doubling up as both a vital piece of safety equipment as well as advertising space for your business.
How does the H-Series™ work?
The panels are constructed using our patent-protected technology, ensuring sound is minimised in even the loudest of environments. They are built using the highest quality materials, using the most advanced acoustic technology available to ensure efficient durable operation in all conditions.
The H-Series™ offers market-leading performance, while having a minimum impact on the local environment and remaining easy to transport, install and disassemble.
The panels are lightweight and quick to install or move, ensuring work can stick to tight deadlines.
All products in the H-Series™ range come with a two-year manufacturer's warranty.
What are the consequences of not tackling noise pollution?
As mentioned, local authorities can take a very heavy hand when it comes to punishing firms which have not taken adequate steps to reduce noise pollution.
Councils in the UK can serve a notice imposing requirements to minimise noise under the Control of Pollution Act 1974, restricting working hours. If not adhered to, firms can face prosecutions and fines of up to £20,000.
They also have the power to delay works – or halt them altogether.
Similarly, those deemed to be causing a "statutory nuisance" under the Environmental Protection Act 1990 can expect heavy fines.
Using Echo Barrier products help present a positive image and reassurance to the public through smart messaging and branding. It shows people you take their wellbeing into account, keeping them informed and appreciative of what you do.
It also helps show councils that you are taking your role as a responsible developer seriously – while preventing extra costs for contractors should deadlines be missed due to issues with the local authority.
Visit our products page for more information about how the H-Series™ can benefit your business, or contact our friendly team on 0845 561 3246.